Celebrating The Innovational Women of Dub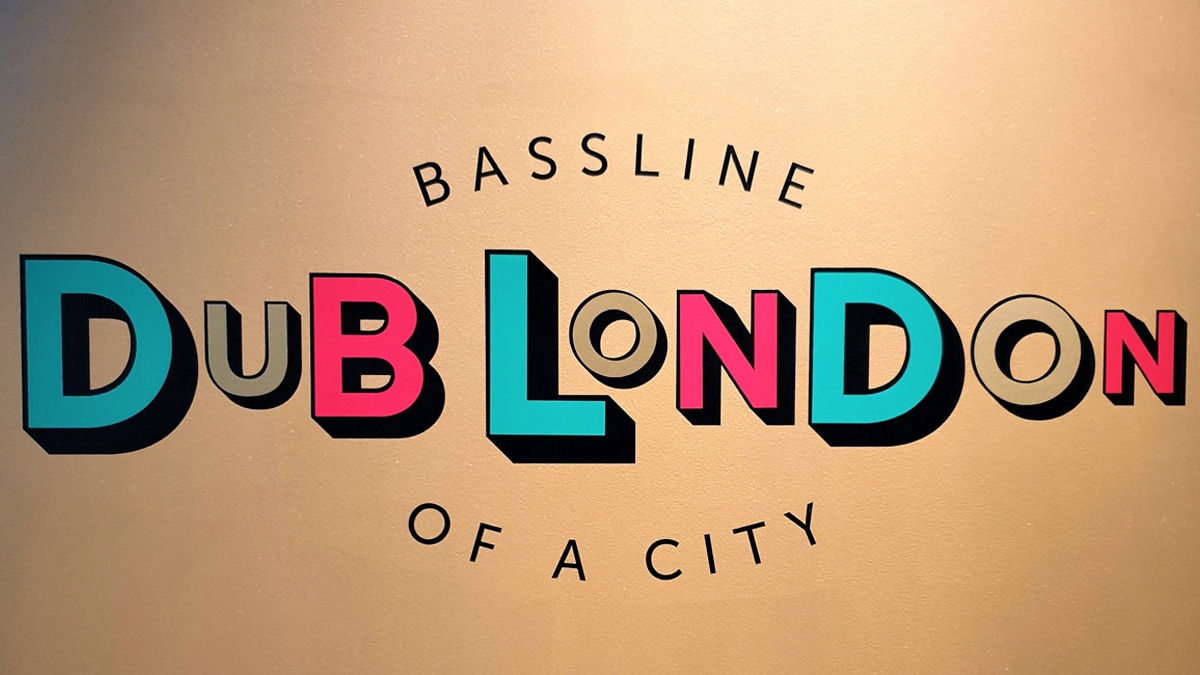 So, here we are again. After a short burst of socially distanced events and venue reopenings, much of the UK has seen regional and national restrictions close the doors to the music and arts industry for a second time.
I was lucky enough to visit the Dub London: Bassline of a City exhibition at the Museum of London before Wales (where I live) went into national lockdown and before the museum temporarily closed as England enters a four-week lockdown.
At the entrance of the exhibition stands the towering speaker stack belonging to Channel One Sound System. Channel One's iconic sound system has appeared at Notting Hill Carnival every year since 1983. It's unmissable and unmistakable as you walk in.
While this may be the first thing you see, the first sound you hear is an audio recording of Sistah Sheeba Levi-Stewart. She speaks of the refuge that dub music offered the young black people of London, with family roots in the Caribbean and Africa, as they tried to escape the brutal racism of 1970s Britain: 'It's a piece of home that I and I well-needed in the wilderness years of insecurity and trauma.'
Her voice is our introduction to Dub London, and the unsung women of dub reggae shine throughout the exhibition. This is highlighted most in the section dedicated to the 'Innovational Women of Dub' – pioneers often overlooked in the male-dominated history of dub reggae music. This area explores and celebrates some of the leading women who helped shape the dub scene as we know and love it today.
Here's who they are:
Dubplate Pearl
Dubplate Pearl is a legend of London's dub reggae scene. She first discovered dub in the 1970s and was soon immersed in the city's sound system culture. One half of DJ duo Camberwell Connection, Pearl has collected a lifetime's worth of roots, soul, dub and reggae records over the years. She started DJing 'by accident' in 2010 and has played for Balamii and Boiler Room, as well as across London and the UK. I recommend watching her interview for Bass Culture Research, where she recounts growing up in London, the reality of racism and sexism during this time, and her enduring love of music and sound system culture.
DJ Cameo
DJ Cameo was once a member of a Lovers Rock group back in the late 1970s, the days of Dennis Emmanuel Brown's DEB Music label era. As a DJ, she played in numerous clubs, at functions, and on pirate radio stations, Genesis FM and Klimaxx Radio, from the early 1990s. She's also presented several guest shows for the BBC.
Ranking Miss P
Ranking Miss P was one of the first black radio DJs working for the BBC. She was initially encouraged by her brother DJ Lepke to join his radio outfit, DBC, the first black owned and controlled radio station in Europe. In 1985, she began presenting a weekly reggae show, Culture Rock, on BBC Radio 1 on Sunday nights. It was Radio 1's first ever show dedicated solely to reggae music, and Miss P was one of the station's first black presenters.
Rasta Queen
Rasta Queen's musical career started at a very young age, coming from a family with a great love of music. Playing strictly vinyl, her talent was acknowledged in 2018 when she was crowned Reggae Revival and Lover's Rock Cup Clash Champion.
'It goes to show that us females know how to select and play great music.' – Rasta Queen
Nzinga Soundz
Established in the early 1980s by DJ Ade and Junie Rankin, Nzinga Soundz is now one of the UK's longest running, all-woman sound systems. Their music selection includes reggae, soul/rare groove, calypso/soca, African, Latin, and jazz. They've played in the UK and internationally, supporting artists like Burning Spear and the Mighty Diamonds.
DJ Elayne
DJ Elayne is a prolific media, entertainment, and music professional who defied all the stereotypes and catapulted herself into the forefront of radio in the 1980s. She joined LWR radio where she became the first female daytime presenter in London – her breakfast show attracted a 2 million audience – and the first female appointment to A&R Manager at EMI Records UK.
Legs Eleven Sound System
Established in 2011, Legs Eleven Sound System are sisters Xuxu (Selecta/ Operator), Mili Red (MC) and Princess (DJ). They've played across London including at the Jah 9 concert, Dubwise Festival, Notting Hill Carnival Weekend, and Goldsmith University Sound System Outernational 2.
'I inspire the youth, the young females, to play music – even more so on sound system, by the multitude of things you can learn by playing sound system.' – Xuxu, Legs Eleven Sound System
Digital D
'I was the behind the scenes selector…passing the reggae and bashment selections to the Selector, whilst playing the effects machine.' Regularly playing at carnival at Daddy Vego's record shop, Digital D recounts coming second in a Sound Clash with 40 DJs – 'let's just say they were not gonna let me win anyway being a woman and beat all the Man dem. No I don't think so!'
DJ Lady Xplosive
Playing at parties, clubs and radio stations, DJ Lady Xplosive was awarded the Community Music Award (C.M.A.) for Best Female DJ/Presenter in 2012. She later developed internet radio station Xplosive Music, bringing together playlists of early Jamaican music to reggae.
Thali Lotus / Caya Sound System
Thali Lotus's sound system 'Come As You Are' enterprise (CAYA) was inspired by coming together with the right spirit; using music to educate, entertain, and bring people together. Her sound speaks to audiences in the roots and dub scenes.
Sister Nkechi the WarriorQueen
A Roots Reggae Selector, Sister Nkechi has supported artists including the Twinkle Brothers, Johnny Clarke, Mad Professor and Mungos Hi Fi. She also presents the RootsFeast Cultural Music Show and the Conscious Living Vibrations Discussions & Music Show on RealMusicfm.com.
VIDEO: LifeFM .TV PLAYING PRINCE ZEBULION & NKECHI THE WARRIOR QUEEN Archive
Sister Culture
Sister Culture joined the all-female sound system of that name in 1980, under the name of Mummah Cutty. After the other women went their separate ways, she continued the sound and the title remained, becoming synonymous with her. She has had the pleasure of DJ'ing all over the UK but is now retired.
Queen Rankin Merva
Mentored by legendary producer Dr Hawkeye on record production in Jamaica, award winning Queen Rankin Merva is a presenter on Roots FM Radio and a reggae DJ working with high profile DJs including David Rodigan, Tony Williams and Greg Edwards.
Dub and reggae have influenced a whole lineage of other genres and movements, from punk and hip hop, right through to jungle, UK garage, and the drum and bass, grime, and dubstep scenes we know today. The global impact of dub is undeniable. It spawned the DJ culture that continues to evolve across the world with new generations of young people. Its legacy is everywhere, and the women behind the sound systems, the records, the rhythm of dub reggae, are an integral part of its culture and history.
So, as I'm sat at home, in lockdown (again), writing this article and dreaming of a time when we could meet up, play records, and dance in front of soundsystems to music we love, I'm feeling incredibly grateful for the pioneering women of dub who helped lead the way for a lot of the music and artists I follow today. Their legacy continues to inspire and give hope to women in music, and so many others, right across the globe, despite the uncertainty the whole industry is going through right now.
Culture and creative expression are a large part of the way we humans process difficult and painful experiences, and dub reggae itself is an example of this. Central to the exhibition are stark reminders of the racism and hardship faced by black people in London, and how dub became a vital response to this, helping individuals and communities fight through together. The women of London's dub reggae scene were, and continue to be, a huge part of this, but their names are not often heard in popular culture.
Dub London in an important step towards giving the pioneering women of dub the spotlight and recognition they deserve – that which is unfortunately often overlooked. We can learn so much from their individual stories of strength, creativity, and progressive vision, as well as their collective impact on dub reggae sound and culture in London and far beyond.
I hope the artists, venues, sound systems, and many others continuing the dub reggae tradition receive the support they need during these difficult times to continue their invaluable work. I hope to see Dub London's doors reopen again too. When they do, make sure you visit, and be part of its celebration of the Innovational Women of Dub.
Words: Francesca Gardner
Credits:
Artist information taken from Dub London: Bassline of a City
Photos: Francesca Gardner