Dynamics Does: Hospitality Weekend In The Woods 2021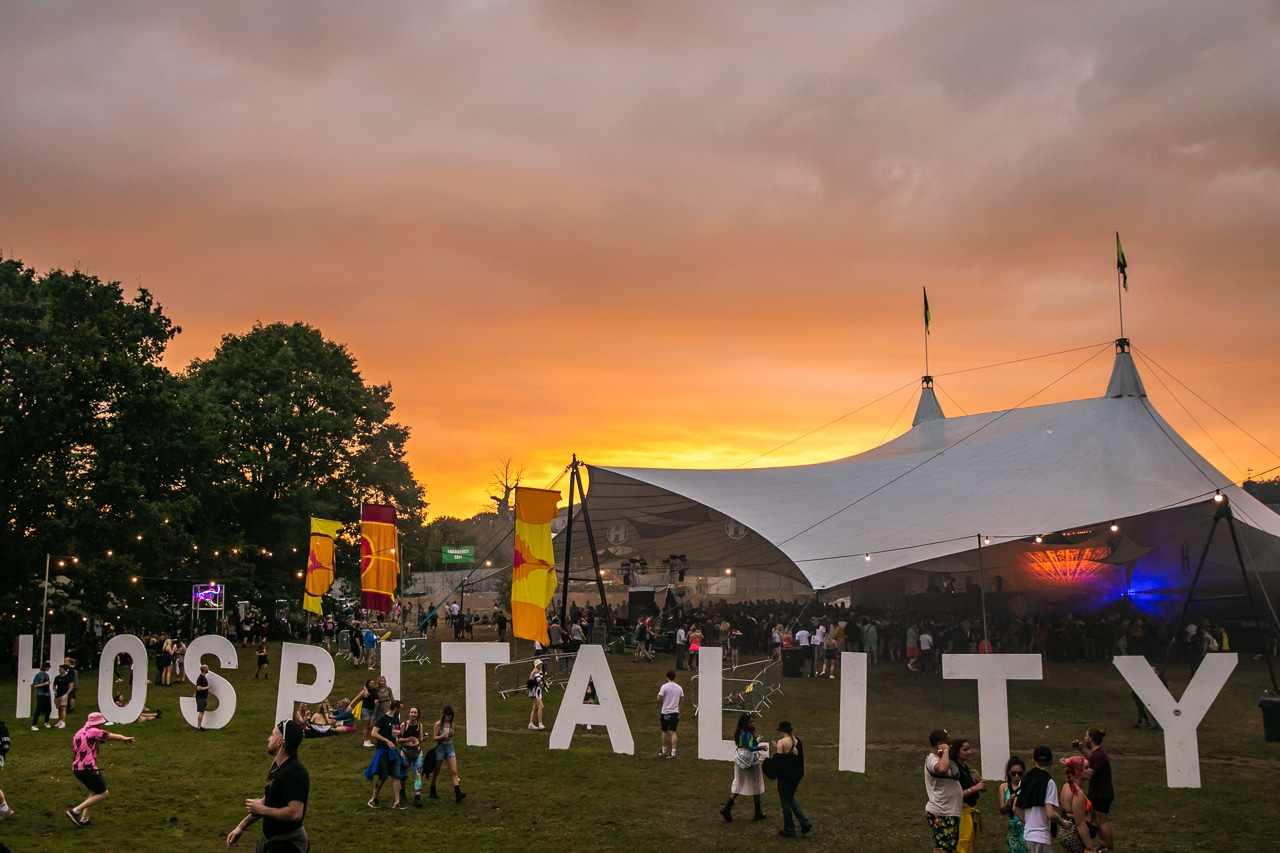 Day 1
When tickets for Hospitality in the Woods came on sale at the start of this year, the UK looked very different. We were still in lockdown and the only shred of hope that raves would return was the infuriatingly wild videos coming out of New Zealand.
Yet despite the countless cancellations, rescheduled dates and dashed hopes, HITW's tickets still flew out of the door as soon as they went live. Which meant the excitement was tangible in the weeks running up to the event. This was it. It was actually going to happen. Our unwavering faith in the dance had paid off.
I'd already been to some club nights since restrictions lifted. But having had Boomtown cancelled, HITW was set to be my first and only festival of the summer so the pre-rave butterflies were just as strong when we stepped onto the overground to Beckenham Hill.
With so many awesome gals playing early sets, we'd made it our mission to get there early. So it was good to see the train had filled with people eagerly swigging cider and blasting tunes by the time we reached our destination. Then it was just a short walk past confused dog walkers and a woman trying to locate a toddler's birthday party (start 'em young I guess!) and the festival site came into view.
After a slight detour round the back to pick up my press wristband, I emerged next to the familiar sight of the giant, glowing Hospital logo and it properly hit me how special it was to be doing this again after so long. But now came the hard part. Choosing who to see!
Luckily, it quickly became apparent that the size and layout of the site would allow us to check out a few people within a short distance. First up, we caught WID&B Mentee, Viridity smashing up the imposing Let It Roll stage with a skillful blend of dark, techy rollers. Props to her for setting a suitably hefty tone on a stage that promised to be a treat for neuro lovers over the weekend. We squeezed in a few bass faces before carrying on up the hill to check out Dynamics' own Enada laying it down on the Bunker Stage.
Enada's wobbly dub flavours were a real treat in the late summer sunshine. There were some serious Outlook vibes in the air as the bone rattling bass shook the leaves surrounding the clearing and the sun glittered in the background. As the crowd picked up, so did the tempo and we were left hungry for more as the set ended on some killer 140.
Suitably warmed up, it was time for Nia Achieves to serve us some pure juggle rhythms accompanied by her standout vocals. It was an impressive sight to see the songstress effortless blending some hectic breakbeats whilst belting out her dreamy neo soul vocals. It actually brought a lump to my throat to see real life live music again after so long. But now wasn't the time to get soppy, not when the day was just getting started!
After passing by Kaz smashing it out to an already rowdy bunch in the Royal Rumble tent, we caught the last bit of Something Something putting a large crowd through their paces with some brutal drops. Then we drifted off to check out Keeno and the mainstage for the first time. The switch up to a lighter sound wasn't unwelcome and it was nice to feel some much missed euphoria during our first proper sing along to Keeno's classic, 'I wonder.'
It's worth pointing out that the 30 minutes we stayed for Keeno' set was the first time there wasn't a womxn playing somewhere at the festival and it had been a real moment previously when I heard the echoes of not one, not two but three gals smashing it whilst I was queueing at the bar in the middle of the arena. And the break didn't last long either as we soon made our way to the Rupture stage to check out Djinn.
Hidden slightly off the main track and laden with retro boomboxes, the Rupture stage felt like it was in its own little world. One more than a little reminiscent of Boomtown. Which was perfect for the new-skool jungle of Manchester's Djinn. The snappy energy of the tunes had everyone moving and it was starting to feel like things were kicking up a notch. Something which was more than confirmed when we managed to get a taste of Sicaria Sound shutting down the bunker with their fire brand of dubstep.
Next up was a trio of sets that weren't for the feint hearted. First, Enei B2B Benny L B2B Levela's mash up of insane basslines and hypnotic rollers. This was the first time I'd managed to get a proper feel for the Royal Rumble tent and I took a moment to appreciate the fact someone had had a good laugh kitting out one of the heavier stages with glitter balls and disco tassels. Then it was over to the Let It Roll stage for the unmistakable sounds of Kanine where I fully lost it to his earth-shattering bootleg of Tessela's Hackney Parrot. By the time AMC took to the stage for some 3-deck madness, things had reached fever pitch and each blend was met with utter carnage.
Needing a breather, we slipped off to hear the soulful tones of Collette Warren against a backdrop of DJ Marky's expertly curated sounds. We only caught the tail end of the set but it was great to see Collette very much in the spotlight, leading the crowd in some heartfelt singalongs and owning the stage.
After checking out Etherwood and witnessing Delta Heavy slay an adoring crowd, we then got seriously stuck into the sounds of the absolute don that it SPY. Not only did he masterfully take us on a ride through his switching, rolling basslines we got to see it on a stage that had come alive with visuals and colour.
Then came the hardest decision of the day. Who should we choose as our headliner? We were loving the theatrics of the mainstage and the mighty Calibre was sure to blow us away. But could we really miss Koven shutting down the second biggest stage?
In the end we decided we couldn't. And we're so glad we did. Koven's energy was nothing like anything we'd seen all day. This was a true performance. One which saw her singing live, jumping up onto the decks, headbanging around the stage and getting up close and personal with the crowd like a true rockstar. Some may say they prefer to let the music do the talking, but to see this dominating female presence closing down the Let It Roll stage whilst flanked by a laser spitting robot was nothing short of inspirational. And I found myself involuntary shouting "go on your fucking queen" on more than one occasion. A fitting end to a day of killer performances by femxles across every stage. Same again tomorrow please!
Day 2
With many people still summoning the energy for round 2, the journey to Beckenham Hill wasn't quite as rowdy as the previous day. And we have to admit we were questioning if we had another full day in us after being out of the festival game for so long.
But although 12pm did feel a bit too early for Ram Trilogy's 'Screamer,' our hangovers and doubts were soon blasted away by the bouncy energy of jungletek queen Mandidextrous. Almost against our will, we found ourselves jumping and fist pumping our way through a set of absolute stompers and I made a mental note to start every morning this way in future.
Feeling energised, we decided it was time to get back on the rum and check out DJ Dazee rolling out over Maddy V's supercharged Mcing. It seemed to be just what the energy crew in the tent needed and we left them shouting 'Fuckkk offff' to their hearts content before dipping into the deep, dark and minimal sounds of Spectral on the critical stage. An excellent taste of what was in store at the bunker for the rest of the day.
Then it was back past the Let It Roll stage and the glitchy, boundry pushing sounds of Gyrofield B2B Latesleeper and round to the mainstage to see one of our favourite vocalists, Ruth Royal belting it out with Makoto. It was great to hear their collab 'New Love' and Mokoto's 'Spread Love' played out. The latter feeling like one big, poignant fuck you to Covid.
Next was a boogie to Dilemma's eclectic beats on the Solvent stage in the woods before hitting up Hyroglifics B2B Sam Binga. Rider Shafique was on hand for the anthem that is 'Proud' which of course we shouted back with the appropriate enthusiasm. Something which added to the empowering feel of the weekend so far.
Then there was time to see Lens slinging out a barrage of rollers and old school flavours. I'd only ever seen Lens playing liquid alongside Degs (something which she did on the mainstage yesterday) so seeing her on this energy hype was a real treat and left me with a lot respect for her versatility.
A short trip back to the critical stage took us to Particle B2B Waeys and the formidable Charli Brix. Whilst the tracks were on point, it was Charli who stole the show by giving us beautiful renditions of tunes from her album, calling people out in the crowd to keep moving and even donning a sombrero at one point. And of course, we agreed wholeheartedly when she exclaimed it was "good to see so many women out there!"
Now seems like a good time to pause and reflect on how much the weekend really did feel like one huge step forward for womxn playing on big lineups. Sure, we could pick our faults with timings and clashes. But ultimately there was an extremely high chance you'd finding yourself watching a gal if you were there from the start and that made the first few hours feel like a really empowering space for womxn. And hopefully that level of visibility will see these names creeping up the lineup more and more in future.
But back to the rave and us catching Riya being joined on stage by Collette Warren for a live rendition of 'Vices' ft. Whiney from their new collaboration album. Another brilliant snapshot of women leading the way with DnB's first ever all-female, vocal-led record. We stuck around for Bladerunner's earth shaking set which featured an unexpected drop of 'Stay' which I'm not ashamed to say got me all emosh. I'd already decided that this was my favourite stage set-up and by this time the last of our group had finally dragged themselves out of bed so it felt like everything had come together nicely in that moment.
That's not to say I wasn't impressed by the other stages. They all had their own vibe and excellent levels of production. It was obvious there was more of a focus on being outside than previous Hospitality in the Parks. But whilst I loved the medschool warehouse tent as much as everyone else, the airy setup this year meant you could almost convince yourself you were in the middle of nowhere rather than in a park in the middle of London. And with that came genuinely excellent sound. A far cry from the shambles that was Finsbury Park. My only complaint from an organisational point of view was that they ran out of Kopperberg at the bar. A ciderless festival just doesn't feel right!
But that didn't stop us enjoying the last gal of the day, Flava D, over on the main stage. I loved Flava D even when she was better known for bassline and UKG so I knew we could expect big things from her move into DnB. The set, made up of a blend of liquid rollers like S.P.Y & London Elek's 'Find Another Fool' and heavy hitters like KOTR's 'Shella,' was punctuated with her own stella production. Tracks like Mesmerise sounded particular good on the weighty sound system. She may not have been the headliner, but seeing Flava D smash it up there on the mainstage as the last womxn of the day still felt like the final chapter of a special story for femxle artists this weekend. One we hope we can be part of more often. Cheers Hospitality in The Woods. See you next year!