'Koven' the Talent and Voice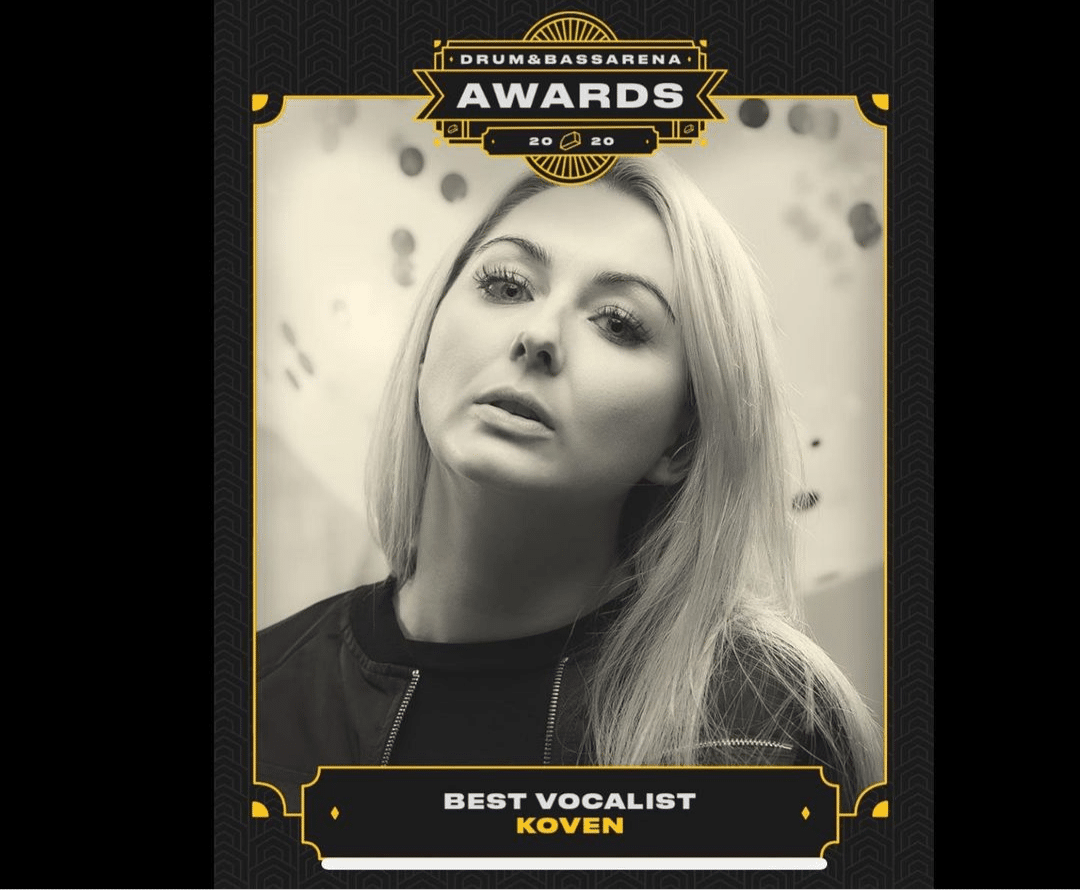 Katie "Koven" Boyle is an original inspirational vocalist and DJ known for her versatility and remarkable ability to write and sing. She is the frontwoman of the famous d&b duo Koven and the face we associate most with the name. For those of you who don't know, Koven is actually a duo that consists of Katie and producer Max Rowat. Having worked together since 2013, these two have created a name for themselves with their cross-genre cinematic bass music.
Koven's first release was produced solely by Max in 2011 and entitled the "Wake You Up" EP. It was a free download that received acclaim from major influencers such as UKF and Inspector Dubplate. Years later, after Katie joined, the duo took the Best EP release award for "Sometimes We Are" [Viper Recordings] in the 2015 Bass Music Awards. That same year the duo was signed to compose the music for a £2.7 million TV ad campaign by Mast-Jägermeister as part of the "Craft the Moment" marketing initiative. That commercial aired at the end of 2015 during prime-time slots; a major accomplishment for any musician aiming to make a living from their craft! Max decided to take a step back from the performance aspect of things a couple years ago, so Katie takes their tunes on tour as she DJs her own sets while singing. Her energetic sets are definitely a favourite with many festival and club crowds!
The duo has become much busier over the years with all of the remix requests, shows and continuously writing more original tunes. It's been seven years that they've worked together and they are still going strong! 2020 was a big year for them despite the pandemic. They were able to keep their audiences moving through releasing their debut LP "Butterfly Effect" on Monstercat Music. (Coincidentally on the same day as the first official UK lockdown!) They also started their "Another Home" virtual reality club where audiences could enjoy sets from the artists they love in the form of a fully interactive and immersive digital raving space with everything you would visually expect from a live experience. (Bar, Merch tables, and even a recording studio!) The cherry on top for Koven was winning the Best Vocalist award in the 2020 Drum and Bass Arena Awards. The act received more votes than anyone else in any other category; talk about stealing the show! Katie accepted the reward for them both online with tears of joy and gratitude. Her sweet little French bulldog will likely go down in history as the first pup to make it live on D&BA as well! (lol)
Katie's passion and love for what she does vocally, on the keys and behind the decks alongside the brilliance of Max's production and composition skills are what make their awards so very well deserved. Having both musically grafted for over ten years they are a true testament to persistence paying off. They've pushed themselves past fears to get themselves where they are today. From crossing genre boundaries to working with live instrumentation and choirs like Choir Noir, Koven continues to grow musically through each project they dive into and complete. So, for those of you out there wondering if all the time you've spent on what you love is worth it, then take it from Koven: it most definitely IS!
Dynamics Profile: https://dynamicsmusiccom.wordpress.com/koven/
Words by Sofi Mari