Cool and Creative, this is STAY-C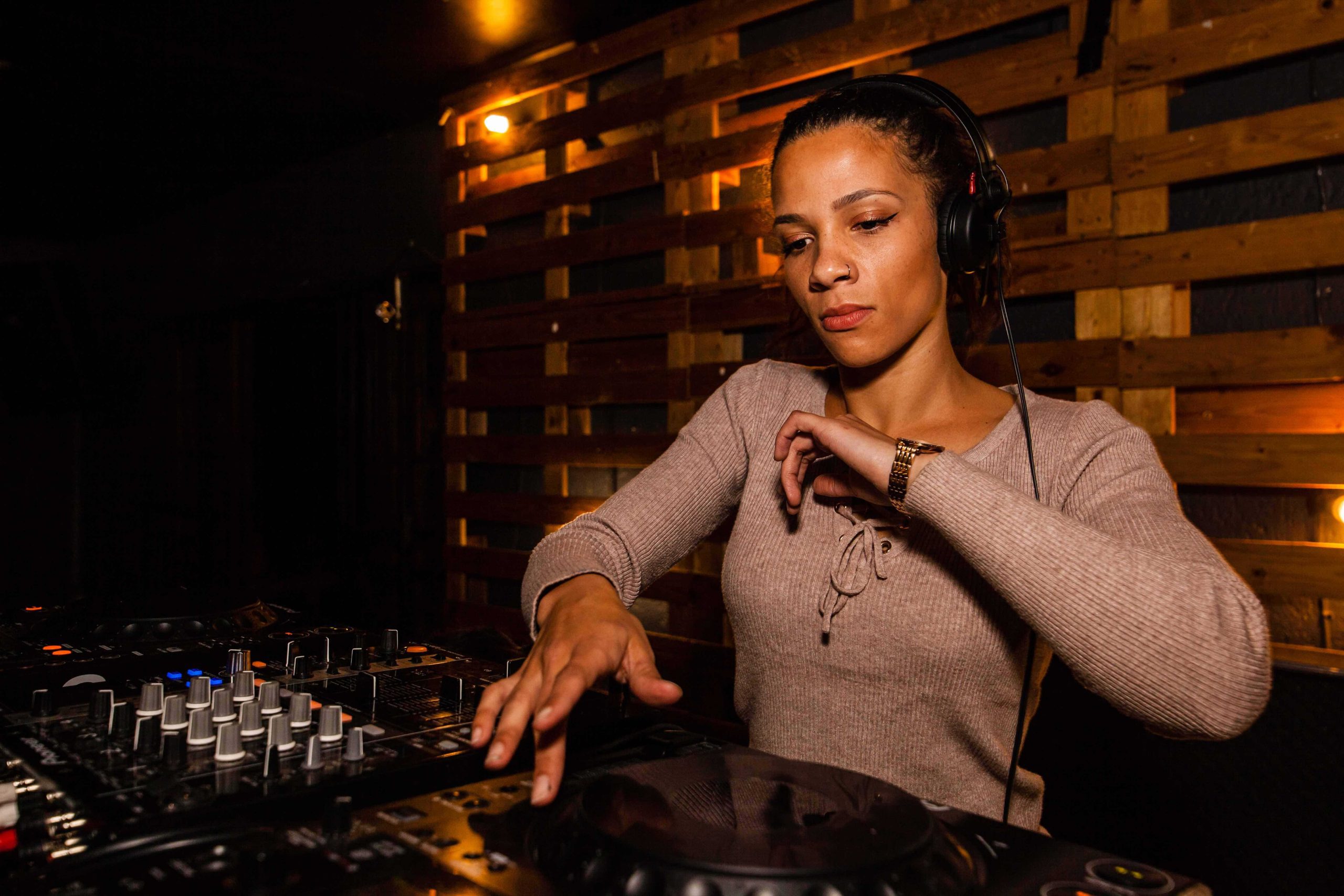 If you haven't already heard all about Stay-C, you're in for a treat. Dynamics D&B enthusiast Liohness sat down with René King to talk about her music career so far. Stay-C was producing before she even touched the decks, yet DJs on the regular now, international style. The South African DJ/Producer was selected for the first ever Hospital Records Women in DNB Mentorship last year. Listening to her diverse selection of tunes it's clear to see why Stay-C was the winner. Talking music, skills, and the international Drum & Bass scene, here's what Stay-C has to say:
Hey Stay-C ! Great for you to join me today. Let's get to it, tell me about your music career so far.
Firstly, why drum and bass? Any stand out influences?
Hey Liohness! Thanks for chatting with me today and congrats on placing for your Perception Remix for SofaSound - it's a massive tune.
Why drum and bass? My boyfriend says drum and bass is for people who have inner angst, aggression or erratic emotions (he's a DnB dj and producer too) so maybe that's why I'm into it haha! On the real though, I think drum and bass combines all my favourite elements of electronic music in one genre - rhythm, melody, groove, big basslines and weird alien sounds. And, it just keeps getting better. That's my favourite part about drum and bass - it keeps evolving and progressing and as a producer you're constantly kept on your toes to keep it fresh and to experiment with simplicity and complexity in production - sometimes the best tunes are the simplest ones even though overall drum and bass tracks are pretty complex. Stand out influences… it's changing all the time but at the moment I would say Imanu, GROUND and Waeys. Those gents have some mad tunage at the moment!
Haha, we love it, even though it's arguably one of the hardest genres to produce, well, at least. Talk me through your creative process when you start a new tune, what do you find the most challenging elements in production? Naturally, there's more than one….
I've seen diagrams that visualize DnB as the most challenging electronic genre to produce and I think it's because even though you can have all the right elements placed in the right place, to 'sound like drum and bass' the sounds themselves have to have the right timbre. That makes it quite hard to make a good drum and bass song. The most challenging elements in production to me are definitely mixdown and arrangement. I can generate ideas pretty quickly but evolving them into a tune that sounds complete and making the mix down work on small speakers and big speakers is a real challenge for me. I'm getting better all the time but it's hard.
So we've got to touch on the fact that you were selected out of over 100 producers to be the first on Hospital Records Women in DNB mentorship, that's ffing sick! How've you found the experience?
Man, it's honestly been so surreal really. The A&R team I've been working with - Tilo, Megan, and Nikki - have become good friends during the process. They have been so supportive and have helped me to boost my confidence and believe in myself. Oftentimes one feels producer envy and feels like they'll never be as good as so-and-so but with the Hospital support system, I've learned to have faith in my uniqueness and identity as an artist and focus more on my journey instead of measuring myself up to others. Don't get me wrong I think a healthy competitive spirit can be good but just like if you're swimming in a race and if you look to the other lanes to see how everyone is doing, you'll probably not swim as fast; it's important to focus on your own sound.
Gonna nerd it up now, Do you use Hardware or Software or combo of both? Favourite plugins atm?
I would like to start using more hardware but I'm pretty much in the box to be honest. Favourite plugins - Serum for life! I've also started to explore IL Harmor again, the things one can do with additive synthesis is just crazy. I got inspired to pick up Harmor again after watching a Buunshin tutorial. That guy is just insane!
Any advice for people wanting to get into production?
Start off by getting a sample pack or two and just try your hand at laying out a beat. Get used to feeling where the change-ups should be i.e. every 8, 16, and 32 bars. Mixing drum and bass is a great way to start locking into the sound of DnB so I would highly recommend DJing too if you don't already. Once you've dipped your toes in, it's time to start with tutorials. But I recommend not to overdo tutorials because one can definitely get overwhelmed with too much content - focus on mastering just one thing at a time instead of overloading on content. A famous pianist when asked how much he practices every day said 'very little', 'very little material'. I think there's something to be said about taking one plugin and exploring it over several weeks or months instead of scratching the surface with many.
Going forwards, do you have an idea for your 'sound'?
One of the things I've been trying to work on with Hospital is refining my sound. I think one doesn't need a 'sound' to be successful in drum and bass but for long-lasting impact and memorability it's probably best to be recognizable and have consistency that people can rely on so they're inclined to buy/stream your EP every time and hire you to play gigs etc. I think I'm leaning towards a techy sound at the moment. I'll probably be diving more into that direction even though I've enjoyed making big bass dancefloor and liquid tracks in the past.
Just gonna plug 2 of your tunes here, Stay-C has bare FREE downloads on her soundcloud.
Busy guy is a great tune. I really like those alternating snares you bring into the background behind the main snare. It's those little details which keeps a tune interesting and unique.
Thank you! This has been one of my best friend's favourites for years so I decided to release it since I'm sitting on stacks of tracks that I need to finish and find a home for.
I feel like I haven't put anything up on SoundCloud for a while and I love giving away free downloads, I just want people to enjoy the music and play it out!
There's a bit of a formulaic approach to dnb atm, so those variations in the music make a difference.
For sure, thank you.
Medal wins it for me I have to say. It's intense and hectic, that rolling bassline and dem mid bass growls, love it.
This is probably also one of my favourites - I had just discovered how to layer kicks and use a synced LFO in the bassline to get a track to really roll and I was pleased with the result. I should probably play it out more often haha.
Hardest thing you've had to overcome in your drum and bass career? Obviously 2020 has been equal parts memorable and bizarre.
Hmm… The hardest part is probably balancing drum and bass with the result of my life. I work a full-time job in engineering and have been studying these past few years so it gets a bit depressing when one doesn't have the time they wish they had to dedicate to music but I've decided to do more of what makes me happy in life so I make more time for production now than ever before and it feels great.
Have the frustrations of lockdown influenced the sound you are making? Darker tones perhaps, though you are in a sunny part of the world!
The strongest influence has probably been on my desire to finally stop being lazy and start synthesizing the majority of the sounds in my songs instead of using samples. I think that has led to a techier sound inadvertently.
Have you had any COVID secure gigs yet? What's the vibe like? And obviously ...Livestreams Galore! Djing in 2020 is certainly different.
We've been blessed here in South Africa with restrictions lifting and so I've played some gigs in the last few weeks. It's been really good for the soul. I think one thing all of us have realized is just how critical the rave scene is to our livelihood - financial, physical, mental, spiritual, you name it. Raves are my form of church: I stand on the dance floor and I contemplate life and feel empathy and connection and peace. I hope everyone will be able to perform and dance in a public setting again soon! Human flourishing is so important. So is our health of course but yeah I'll stay away from the politics for this one haha.
There's been some critique lately of drum and bass becoming extremely whitewashed. It's clear to see that in the UK, but how do you find the gigs in South Africa to be?
I do feel like there are more white men in drum and bass throughout the world than any other group but I appreciate the strides that organizations like Hospital Records, EQ50 and other movements are taking to rectify the situation. I think promoters and labels are gaining greater awareness of the disparity and things are slowly improving both in South Africa and around the world.
Looks like things are set to change for the better, and with that will come richer music. There's a great camaraderie between womxn in the dnb scene at the moment.
Oh yeah, I feel that. I must admit that before this year I was totally clueless as to how many talented womxn dnb producers there are out there. It's been a great blessing to connect with people like yourselves and form a global community of people rooting for each other in the name of drum and bass music.
With that, it's still fair to say more needs to happen, the producers are there, the djs are there, where are the girls with the headline slots...activism from groups such as EQ50, Normal Not Novelty, and now Dynamics, is fundamental right now to raise awareness of equality (or lack there of) in the dnb scene. There's a wave of female-identifying producers right now, which is particularly important, as in the dance music scene of today, more often than not you need to produce to be noticed. Do you think there is an additional pressure as womxn? The online audience can sometimes be less than friendly, which is disheartening…
I agree that more still needs to happen but I think there is definitely movement in the right direction. To be honest, I think that now is a great time to be a womxn in drum and bass. People are tired of seeing the same old lineups and lack of diversity on stage, within labels and in the crowd. If you're a womxn or if you bring some sort of diversity to the experience and you've put in the hard work during these years - now is your time to shine.
What's the best event you've ever dj'd at, if you could pick one?
Best event overall I would say was the Hospitality on the Beach Livestream. My parents, friends, and colleagues had logged in to show support to myself and the other artists and it was a feeling of 'momma I made it' for me so that was very special. Apart from that, any local music festival here in Johannesburg is just insane. I've been to festivals overseas and they're obviously massive but I wish you could come to South Africa and experience the vibes and quality of music that we have on our DnB stages at the local festivals. Unreal vibrations everytime! I just played at one over the weekend and there's one coming up in a few weeks and I'm humbled to get the opportunity to play at these events. I'll be moving to Melbourne, Australia in the next few months for work and the local festivals will definitely be what I'll miss the most.
So you've mentioned a move to Melbourne, that's exciting stuff! Would you ever consider moving to the UK or another place, because of the (junglist) massive scene?
Melbourne has a pretty epic DnB scene which will be nice to experience! SA has great passion and energy but the scene isn't that large so it will be nice to migrate to a bigger scene. I have a 5-year plan to get to the UK too so I will definitely be making my way up North in the next few years - in the name of drum and bass. Bristol is calling me.
Soooo...Any disaster moments?
Oh my word… 1 September 2017. It was an all-female lineup and I was playing amongst some pretty stellar DJs. I had just gotten back from an overseas trip so I hadn't really practiced and it was my first time trying to play with cue points but I didn't understand how to properly align cue points in Rekordbox… it was a disaster. I still remember the shame I felt as I walked off stage because all of my favourite DJs and producers happened to be at that party too… Murphy's Law.
Haha, I think we can all empathise with those times we would maybe rather forget! No doubt as well as your own productions you've been mining through the tunes looking for the gems, which is one of the best things about being a DJ. Do you have any recommendations without giving away your secret weapons ;)
I absolutely love finding new mind-blowing tracks. I put a lot of energy into finding tunes that make me question my existence hoping they'll have the same effect on the crowd haha. I use a combination of techniques: I use the 'random' function in my iTunes player to rediscover old tracks I may have forgotten about, I listen to podcasts and mixes on SoundCloud, and man oh man are there some good free tunes on Hyppedit. The promos are also a great time for that fresh fresh. Okay, I've given away too much already :-P
Can we expect any releases from you soon? would you like to sign exclusively or look around at different labels? I know you said on the In The Key Of She: Threads podcast, you're not in a rush, which is a really admirable way of looking at things. We could all take a leaf out of your book!
Of course, I'd love to have a release with a major label in the future. I've been working on my production for (what feels like) so long and I'm keen to have that level of validation but to be honest, I know my tunes can be better than they are now. I give myself 6 months to 1 year to improve the quality of my tracks further and hopefully find a label that I can form a long-term relationship with over time. Hospital, Critical, 1985… it would be nice :-) a girl can dream!
Follow Stay-C https://www.instagram.com/staycdnb/